David Beckham and Harper Beckham have a very close father-daughter relationship, but the former footballer once made his youngest daughter feel embarrassed at school.
The Beckhams family has always been regarded as one of the happiest and most iconic families in the entertainment industry. After more than two decades of marriage, Victoria shares four children with the Inter Miami CF co-owner: Brooklyn, 21, Romeo, 18, Cruz, 15, and Harper.
Among them, Harper, being the family's little sister, receives special attention from her parents and brothers. The adorable princess has a wonderful bond with her father. However, sometimes, the stories about the daddy-and-daughter duo make fans laugh till tears come.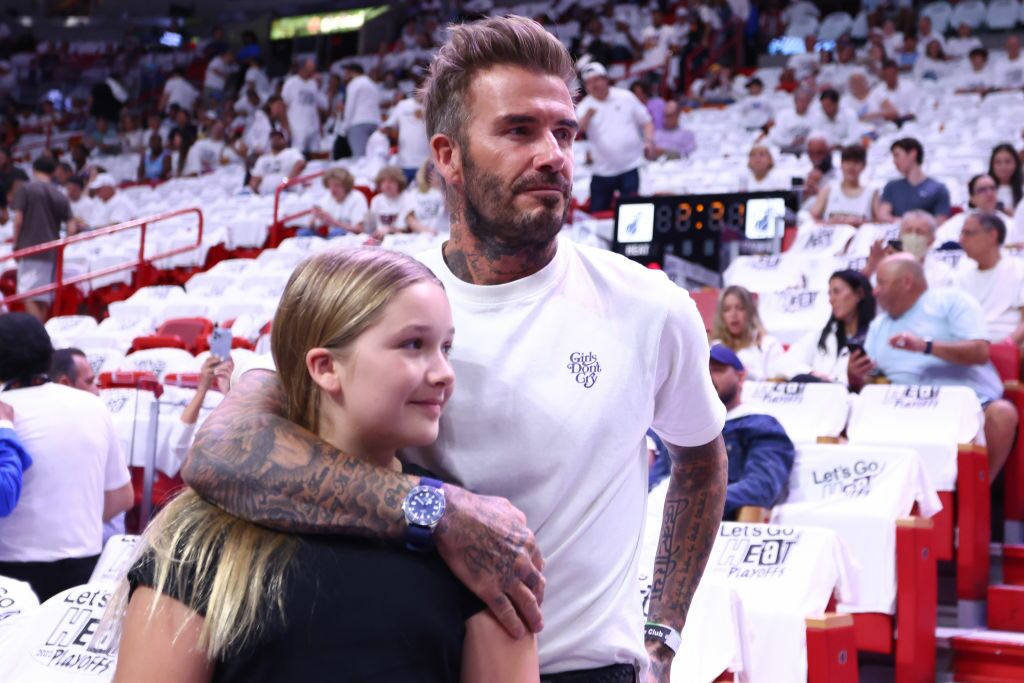 Recently, Victoria Beckham has stated that her husband David Beckham was 'heartbroken' by their daughter Harper Beckham's request.
What did Harper ask David Beckham to do?
The fashion designer, 48, made the statement when appearing as a guest on Dax Shepard's Armchair Expert podcast earlier this month. During the episode, she discussed her life and profession with the podcast host. She told experiences of her family, particularly her 47-year-old spouse David, whom she married in 1999.
In a recent episode, the mother-of-four recounted her youth before sharing what her daughter, Harper, eleven, encountered with the school run.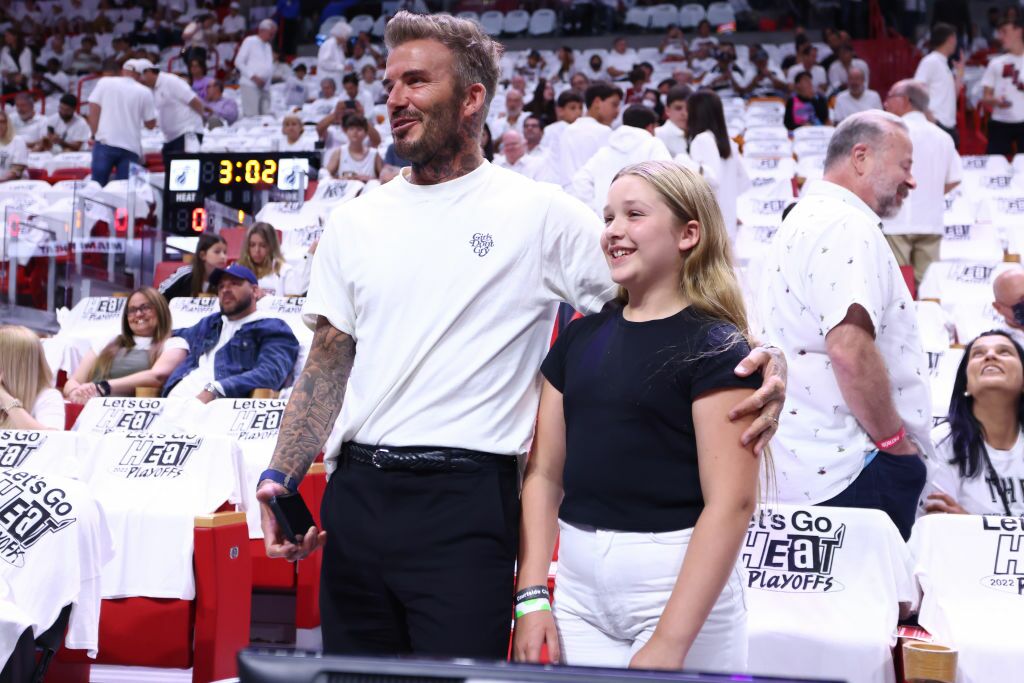 Victoria stated that Tony Adams, her father, used to drive her to school in a Rolls-Royce. She explained that at the time, the businessman was 'extremely proud' of his car.
'We had the Rolls Royce but because he was an electrical wholesaler he also had a van. Me and my sister used to say like 'please drop us [off] in the van.'
She continued:
'I think more kids at school were being dropped off in a van and so when we were in the Rolls, we'd be like 'oh please drop us down the road'.'
At the time, she admitted to feeling 'a little bit embarrassed,' but today, she remarked:
'I'd be like literally pull up right to the front gate. I'd be honored to exit that Rolls with confidence.'
Following the tale, podcast host Dax, who is married to 42-year-old Kristen Bell and has two children, suggested that sometimes parents 'just can't do right by [their] kids.'
Victoria then revealed that Harper was facing the same situation like her:
'David was having this conversation the other day when he was dropping off Harper. [...] She was like, 'Daddy can you drop me a little bit away from the school'.'
She continued by saying that the former footballer was heartbroken upon hearing his daughter's request Victoria commented on the podcast: 'She's our youngest daughter and he was like 'oh really, this is happening'.'
Victoria continued:
'And then he was like 'if it's uncool that David Beckham's your dad ...' I mean let's be honest what hope do most of the other kids have.'
David and Harper's special bond
Later, she joked on the podcast that it might just have been David's 'bad outfit that day.'
Aside from the school story, Harper Beckham and her father David Beckham are portrayed as having a close-knit and loving relationship.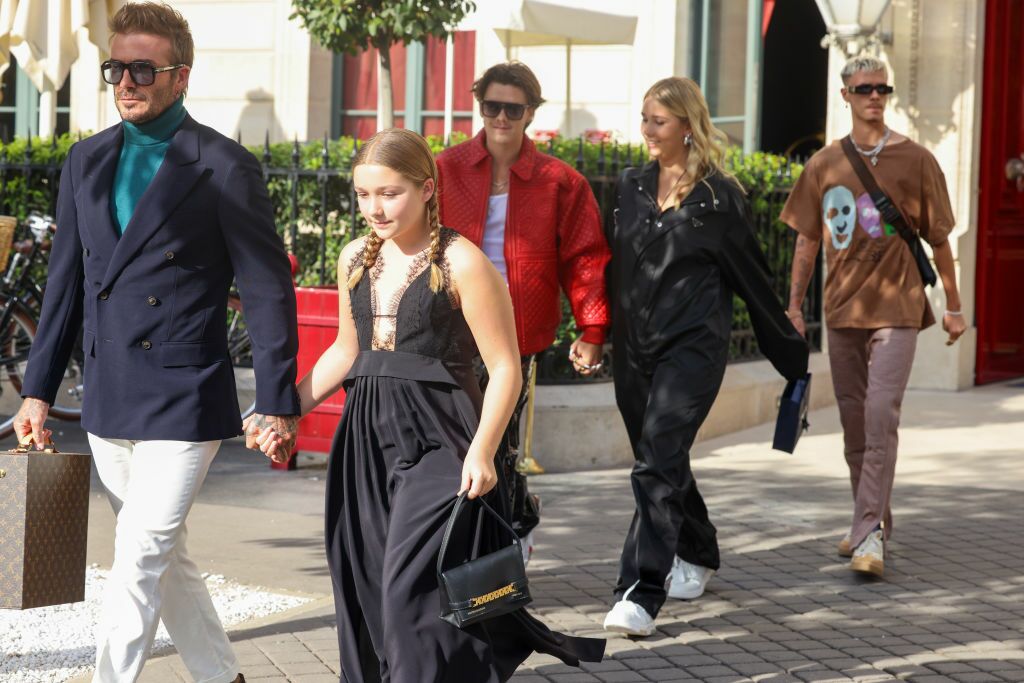 Most recently in November, Victoria shared a picture of a plate of milk-chocolate-coated strawberries which were served on a plate next to a bouquet of flowers, gushing 'A nice cake for Daddy,' followed by: 'Harper made this not me.'
Or another time the Beckham duo won over fans by releasing a never-before-seen lovely scene from Brooklyn's wedding. David and Harper were seen cuddling closely on the dance floor during their own personal father-and-daughter moment in the touching snapshot posted on VB's Instagram and photographed by Vogue. As they swayed jointly to the music being played in the background, they were unable to contain their smiles.
Harper and Brooklyn reunited after years away
In March 4, Victoria shared some adorable snaps of eldest son Brooklyn hugging his little sister Harper as the family reunited to celebrate the budding chef's 24th birthday in Paris. Brooklyn has been living in America since marrying Nicola Peltz last April, and his birthday was a rare moment of family reunion for the Beckhams.
In the snap on Instagram, Brooklyn could be seen wrapping his arms around his youngest sibling as he smiled lovingly, while Harper was even moved to tears. Victoria captioned the post with a heartfelt message with the photos of Brooklyn and Harper, saying:
'Your little sister loves you more than you could ever know and being together on your birthday made us all so happy. We love you so much @brooklynpeltzbeckham #harperseven @davidbeckham.'
Fans quickly flooded in the comment section. One person saide:
'Hardest part of being the baby sister is when your older bro gets married and you don't see him that much anymore so happy she got to be with him!'
Another said: 'Literally crying… pure love right here.'
Read more:
⋙ Victoria and David Beckham share romantic posts to celebrate 23 years of marriage
⋙ Victoria Beckham reveals daughter Harper teases her for old Spice Girl fashion style
⋙ Victoria Beckham's son Cruz made a lovely nod to his mother's Spice Girls time
⋙ Victoria Beckham has wrist tattoo tribute to husband David removed