British reality TV star Christine McGuiness has recently revealed that her relationship with husband Paddy is on the rocks, admitting it's been a 'very tough' time lately for the married couple.
The Real Housewives of Cheshire alum Christine McGuiness recently opened up about her marital issues with husband Paddy Mcguiness in an interview with the ITV show Lorraine on July 12. McGuiness told host Carol Vorderman, who was standing in for Lorraine Kelly, that she and her husband have been going through 'tough times' in their marriage. McGuiness said:
'I think marriages just go through ups and downs anyway. I think all marriages - especially long ones like ours.'
The former beauty queen went on to emphasize the importance of keeping the family bond, with their kids as the priority, saying:
'It's not always plane sailing. We're trying to deal with things as privately as possible. I want to give the kids an amazing summer. They'll always be our focus.'
Christine and Paddy have long been known as one of the most admirable couples in the entertainment world. The pair met when Christine was still pursuing her modeling career, before walking down the aisle in Thornton Manor in the Wirral in 2011. Aside from their successful career as TV personalities, the pair are also proud parents to three children, twins Leo and Penelope, nine, and Felicity, six.
The pair are embarking on a make-or-break trip
According to The Sun, the reality TV star also revealed that their family would be traveling on a family holiday next week so that their kids can 'have an amazing summer'. The outlet writes that Christine, alongside Paddy and their children, is heading for Spain later this month. McGuiness said during her appearance on ITV's Lorraine:
'We just want to be there to support the children and have an amazing summer. We're going away on a family holiday next week and we're really excited. They're always going to be our focus.'
Dailymail writes that the married couple, who tied the knot back in 2011, has been sorting their conflicts privately.
Paddy Mcguiness recently returned home on Sunday after his work trip abroad in Thailand to film scenes for the next series of his motoring show, Top Gear. The Take Me Out star promised his wife there would be lots of 'cuddles' following his return, commenting on Christine's family snap on Instagram: 'Cuddles tomorrow!!'
In the snap, Christine was wearing a white bikini and basking in the sun while her kids were playing by the pool.
This is not the first time the couple's marriage has been on the rocks
In recent months, Christine occasionally opened up about her relationship struggles with 11-year partner Paddy, sparking intense speculation of their split. Last week in an interview with The Sun's Fabulous Magazine, the former English model revealed she was 'all over the place' putting up with Paddy's behavior, saying:
'I'm feeling really quite raw and all over the place. What I might have put up with in the past, I probably wouldn't put up with now, and the same for him.'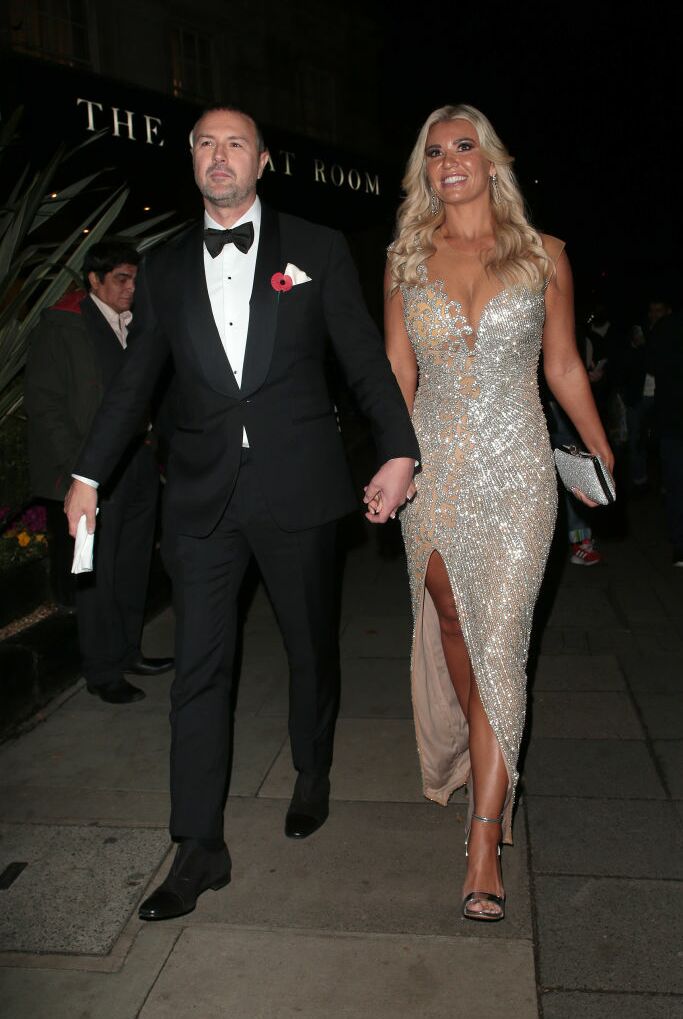 'I can't deny we are having a very, very difficult time,' she shared.
She went on to admit that conflicts are an integral part of marriages. McGuiness told Fabulous:
'I think you've got to expect it. When you've been together for so long, you're gonna have ups and downs. Everyone grows and changes and we've grown as a family, which is amazing.'
Her announcement came just days after McGuiness posted a series of cryptic posts on Instagram, with one explaining her marital issues:
'This year I met the most broken version of me, but also the strongest. There is only one thing I want to make clear right now. I didn't put us in this situation.'
This is not the first time the couple made headlines with rumors of their worsening relationship.
Last month, during her stint on the sporting show The Games, McGuiness didn't receive any support from her husband, which sparked waves of speculation that they had split. The problem seemed aggravated as the couple embarked on separate trips in the following weeks, with Christine enjoying a five-day girls' holiday in Croatia while Paddy went with his friends on another vacation.