The Aussie heartthrob went Instagram official with his girl friend last month and the internet can't get enough of the new couple.
Robert Irwin, the passionate wildlife enthusiast, is no stranger to the world's spotlight. As the youngest child of the legendary Steve Irwin, known as the Crocodile Hunter, Robert grew up surrounded by a love for animals and an unwavering commitment to wildlife conservation.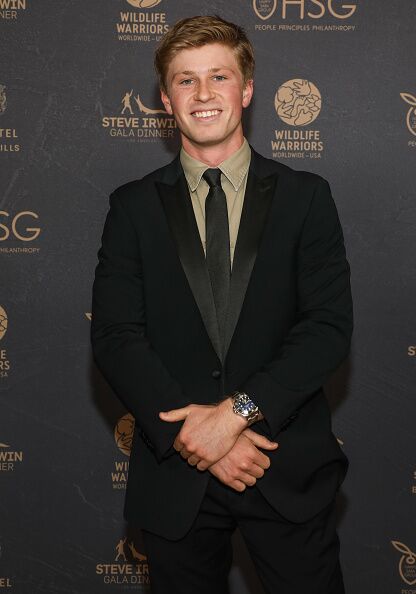 In this heartwarming selfie, the young Australian couple is captured smiling as they pose together in front of a tree adorned with pink flowers. He captioned the sweet photo with pink flower emoji, a sunflower emoji, and a sun emoji. Supportive fans have been quick to express their well wishes for the delighted couple, with one fan writing: 'Aww so cute together!'
'All the happiness in the world to you two,' another commented.
'The the whole female population on life support right now,' another person joked.
'Just fell to my knees in a parking lot,' shared someone else.
Irwin's older sister, Bindi Irwin wrote 'Love you both!' under her younger brother's selfie, while she commented under Buckey's post: 'You guys."
Meet Rorie Buckey
Rorie Buckley, at the age of 19, has officially joined the Irwin family's mission of wildlife conservation. As per Now To Love, Rorie is studying a Bachelor of Science in Physiotherapy at Perth's Curtin University.
According to The Independent, Rorie is the niece of the late Heath Ledger, the late beloved actor known for his iconic roles in The Dark Night, Brokeback Mountain, and many other films. Her mother, Kate Ledger, is the sister of The Dark Knight star and owns a design and media productions company, while her father is a floor coverings store owner. She also has a twin sister, Scarlett Buckey.
After his passing at the age of 28, Heath Ledger's family has preserved his memory and heritage by establishing the Heath Ledger Scholarship, aims to support talented emerging Australian actors.
When did Rorie and Robert begin dating?
Although Robert Irwin and Rorie Buckey recently made their relationship official on Instagram, reports suggest that they have been dating since late the previous year. Their journey as a couple began with a cozy beachside date in Queensland on November 18, where they were spotted cuddling.
The following month, they celebrated Irwin's birthday together, sitting alongside his mother, Terri Irwin, at the Australia Zoo. In December, Nathan Buckey, Rorie's father, confirmed their relationship to Daily Mail Australia, expressing his approval while maintaining discretion.
Their romance took a public turn when they made their red carpet debut at the Sydney premiere of Tom Cruise' Mission: Impossible - Dead Reckoning Part One' on July 3.
Joining forces for wildlife
One of the most heartwarming moments in their journey together is their joint involvement in wildlife conservation. Robert Irwin's life revolves around the Australia Zoo, a facility that was previously owned by his father and is dedicated to rehabilitating animals and releasing them back into the wild. This mission resonates deeply with Robert's passion for wildlife and the legacy he aims to continue.
In a recent display of their shared commitment, Rorie and Robert were spotted releasing a rehabilitated sea turtle back into the ocean. Rorie shared the sweet snap on Instagram along with the caption: "Releasing this beautiful Sea Turtle that was rehabilitated at the Australia Zoo Wildlife Hospital.'
Dozens have also taken to the page to praise Rorie for joining the family's conservation work.
Maria said: 'Great to see you doing this amazing work alongside the Irwin family.'
One wrote: 'The work that you all do is absolutely incredible and truly inspiring.'
Another penned: 'This is so awesome Rorie.'
Read more:
⋙ Strictly Come Dancing's Dianne Buswell: Who is Joe Sugg, her famous boyfriend?
⋙ Romeo Beckham: Here's everything we know about his girlfriend Mia Regan
⋙ Cilian Murphy lives a quiet life, here's what we know about his wife Yvonne McGuinness
⋙ Josie Gibson reveals massive news about 'mystery boyfriend'