British comedian George Logan, who rose to fame as the drag persona Dr Evadne Hinge, has died aged 78.
George Logan, one half of the beloved comedy and musical duo Hinge and Bracket, has passed away at the age of 78. Known for his portrayal of Dr Evadne Hinge alongside Patrick Fyffe's Dame Hilda Bracket, Logan and Fyffe brought their drag act to the forefront of entertainment in the 1970s and 80s.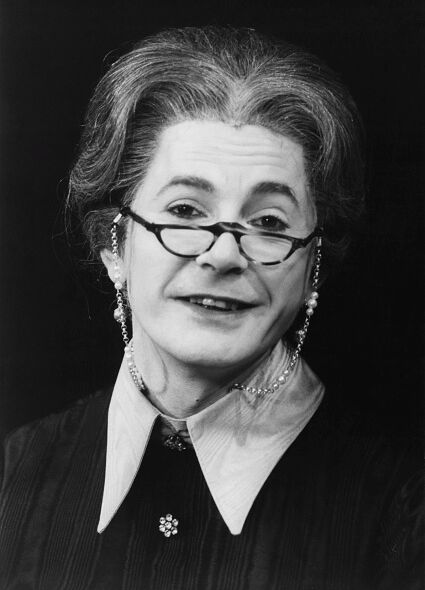 The British entertainer's death was confirmed by his family on Sunday, 21 May. A cause of death has not yet been disclosed.
After the recent passings of renowned drag performers Paul O'Grady, famous for his groundbreaking drag persona Lily Savage, and Barry Humphries, known for his iconic character Dame Edna Everage, the drag community and fans have taken to social media to express their heartfelt tributes.
Drag Race UK finalist Divina De Campo said: 'This is very sad. Another drag great gone. Hinge and Bracket were brilliant and TV regulars. Thanks for the laughs Dr. Evadne Hinge. RIP.'
Actor and drag performer Jeff Kristian paid tribute on Twitter: 'I worked with him very briefly at one of those fund-raising thingies in the Nineties. He was so kind to everyone and clearly adored. Sleep well, George x.'
Another fan wrote: 'I cannot deal with all these iconic people going. I saw them live once with my beloved gran. We would watch their shows together. Great memories. Thanks for bringing happiness to many.'
A pioneering career
George Logan and Patrick Fyffe, better known as Hinge and Bracket, rose to fame with their drag act, which they first showcased at the 1974 Edinburgh Festival. Performing as elderly women residing in a fictional Suffolk village, they delighted audiences with their wit, musical talents, and classical music backgrounds. Their act broke new ground, bringing drag into the mainstream and gaining a loyal following.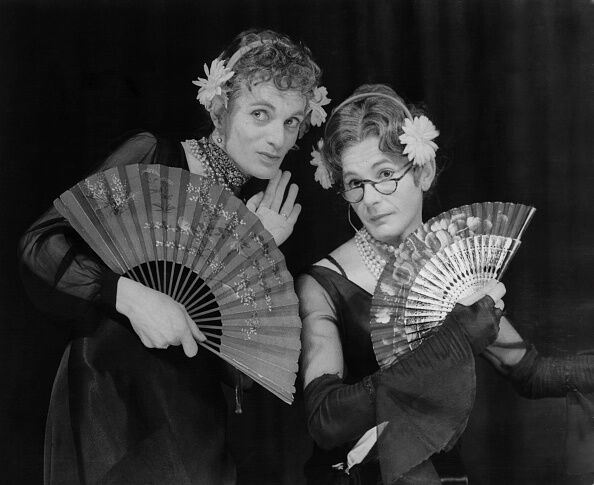 Logan and Fyffe's journey to success began in London pubs and clubs, where they honed their act and gained recognition. Their memorable appearance at the Edinburgh Festival opened doors for them, leading to touring opportunities and widespread acclaim. The duo's talent and comedic timing propelled them to secure their own television and radio shows, including a popular series on BBC One titled Hinge and Bracket from 1978 to 1981, as well as the sitcom Dear Ladies on BBC Two from 1983 to 1984.
Royal recognition
Hinge and Bracket's popularity extended beyond their television and radio shows. They had the honor of performing at two Royal Variety shows, showcasing their unique brand of humor and music to esteemed audiences.
As trailblazers in the world of drag, Hinge and Bracket left an indelible mark on the industry. Their act paved the way for future generations of drag performers, demonstrating that drag could be embraced and celebrated on a mainstream platform. Logan and Fyffe's characters, Dr Evadne Hinge and Dame Hilda Bracket, became iconic figures in British entertainment and their influence can still be felt today.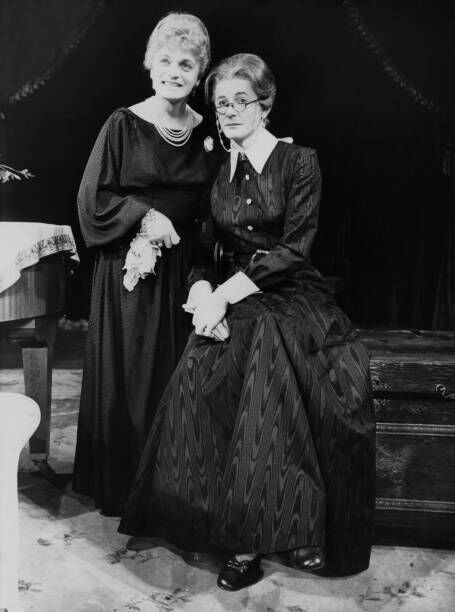 George Logan, in his autobiography A Boy Called Audrey, shared his personal experiences growing up gay in Scotland during the 1960s. In the book, he recounted how his involvement in the drag scene began as a pianist in a gay pub:
'A gay pub near where I lived put on drag acts. One day, the pianist didn't turn up. The landlady said, 'You play the piano don't you? I'll give you two quid to play for the act?' So I did, and became the regular pianist.'
Following Patrick Fyffe's death from cancer in 2002, George Logan retired the character of Dr Evadne Hinge. However, he made a triumphant return to the stage in 2016, reprising the character for the comic opera The Dowager's Oyster.
Read more:
⋙ Yet another Emmerdale actor passes away after death of Dale Meeks
⋙ Veteran Godfather actor James Caan passed away at 82
⋙ Paul O'Grady's battle with illness during final year before death at 67