Prince Beatrice and Edoardo's children may soon stepping in the spotlight as their family welcomes a delighting moment.
Princess Beatrice and Edoardo Mapelli Mozzi, members of the British royal family, have recently shared exciting family news with their followers.
On September 6, 2023, Edoardo, known as Edo, took to Instagram to announce the engagement of his younger brother, Alby. This joyful announcement was accompanied by a heartfelt message and a snapshot of the newly engaged couple. He wrote:
'So happy for my little bro Alby and Chelsea! 💍 Finding that special someone is truly the greatest blessing in life. Your engagement news fills my heart with so much happiness. Wishing you both a lifetime of love, laughter, and endless adventures!'
Alby's royal connections
While the engagement itself is cause for celebration, what makes it particularly interesting is Alby's connection to the British royal family. Alby, whose full name is Albemarle Shale, shares a special bond with Princess Beatrice beyond their familial ties. He holds the distinction of being Princess Beatrice's brother-in-law and also bears the honor of being her mother's godson.
Alby's mother, Nikki Williams-Ellis, is married to her second husband, the late Christopher Shale. Christopher Shale was a 'close friend' of Sarah Ferguson, reports Hello Magazine. Notably, he was in attendance at Fergie's royal wedding to Prince Andrew in 1986.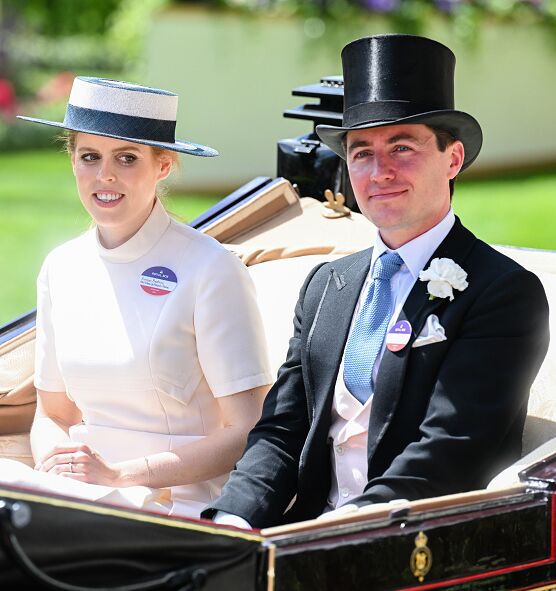 Tragically, Christopher Shale passed away in 2011 while attending the Glastonbury rock festival. His untimely death left a lasting impact, and it is said that Edo honored his late stepfather by naming his son Christopher Woolf, whom he shares with his ex-girlfriend, Dara Huang.
With Alby and Chelsea's engagement, there is heightened speculation about the possibility of a royal-adjacent wedding in the future. It is worth noting that Princess Beatrice and Edoardo Mozzi's own children, Sienna Elizabeth and Christopher Woolf (affectionately nicknamed Wolfie), may have roles in the wedding party.
According to reports from The Daily Mail, Sienna has been asked to be a flower girl, while Wolfie is expected to serve as a pageboy. These roles are traditionally reserved for the nieces and nephews of the couple getting married.
Beatrice and Edoardo's own anniversary
As the British royal family experiences this exciting moment with Alby's engagement, they also recently celebrated another significant milestone. On July 17, 2023, Princess Beatrice and Edoardo Mapelli Mozzi commemorated their third wedding anniversary.
To mark this special occasion, Edoardo Mozzi shared a touching tribute to his wife on Instagram. The heartfelt post included previously unseen photographs from their wedding day, providing an intimate glimpse into their cherished moments.
In his message, Edo expressed his deep love and gratitude for Princess Beatrice, describing her as the 'most beautiful wife in the world.'
As the royal family continues to navigate the complex landscape of change one year following the passing of Queen Elizabeth II on September 8, 2022, these moments of celebration bring joy and warmth to their lives. King Charles and Queen Camilla, along with other royal family members, have been following the tradition of spending late summer at Balmoral Castle in Scotland. Balmoral was where Queen Elizabeth spent her final weeks and ultimately passed away.
Read more:
⋙ The Queen and Sarah Ferguson once clashed over expensive gift for Princess Beatrice
⋙ Princess Beatrice's daughter inherited this classic trait from her
⋙ Heartbreaking reason why Princess Beatrice's stepson cannot attend schools in the US
⋙ Princess Beatrice's husband allowed to break Christmas tradition thanks to Meghan Markle