The club captain has been struggling for playing minutes under Erik Ten Hag's management and is keeping an open mind about his future.
As the transfer window buzzes with speculation and anticipation, one name that has caught the attention of football enthusiasts is Manchester United's Harry Maguire. Rumors swirl around the potential departure of the highly regarded defender, with reports suggesting that a rival club is showing interest in acquiring the services of the out-of-favor player.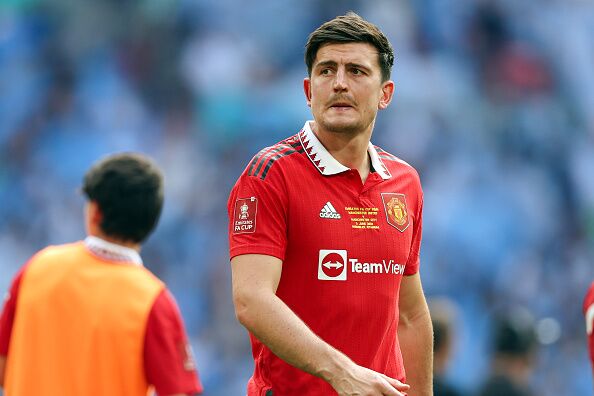 A strategic move for Maguire
According to The Evening Standard, London club Tottenham are among the clubs interested in Manchester United defender Harry Maguire, who is set to leave Old Trafford this summer. Maguire still has two years remaining on his contract with Manchester United, but is reportedly allowed to find a new club.
Tottenham Hotspur's pursuit of Harry Maguire raises eyebrows, especially considering the club's desire to retain Harry Kane amidst rumors of his departure. However, it is important to note that the two separate transfers are not linked, and there is no suggestion of a potential swap deal between the players. In fact, Maguire's arrival at Tottenham could be seen as a measure to strengthen the club's chances of keeping Kane, given their close relationship as England teammates and Kane's previous endorsement of Maguire.
With the recent appointment of Ange Postecoglou as Tottenham's new permanent head coach, the club is set to undergo a summer revamp. Postecoglou's arrival signifies a fresh start for the team, and as the club works towards appointing a sporting director, plans for summer recruitment are also taking shape.
According to The Telegraph, Tottenham is reportedly open to offloading several first-team players, including Ben Davies, Eric Dier, Davinson Sanchez, and potentially Clement Lenglet - to make room for new signings, including potential defensive reinforcements.
Maguire's struggle for play time
Harry Maguire's time at Manchester United has been marred by a lack of regular playing opportunities under manager Erik ten Hag. Throughout the last season, the club captain was only given a humble 759 minutes of playing time in Premier League, according to Transfermarkt. Across all competitions, the England international only played a total of 31 games, scoring none yet receiving 9 yellow cards.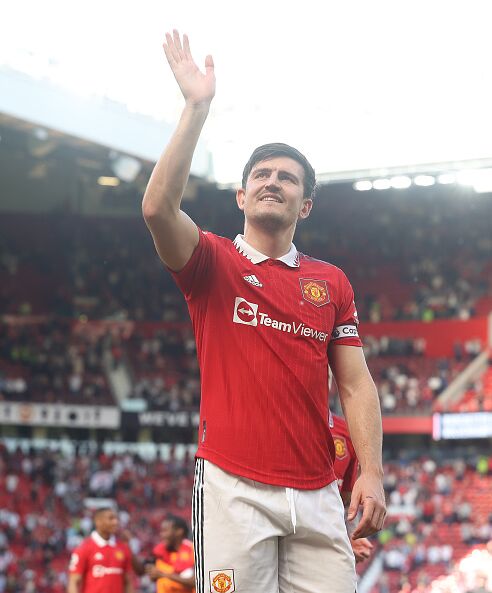 Despite this, he remains an important figure for the England national team, displaying solid performances during the recent FIFA World Cup in Qatar alongside Kane. While Maguire's future at Old Trafford seems uncertain, his potential departure could provide him with a fresh start and an opportunity to revive his career elsewhere.
Securing the services of Harry Maguire would bolster Tottenham's defensive capabilities and provide the team with an experienced leader. With captain Hugo Lloris potentially leaving the club, Maguire's arrival could help fill the void in the leadership group.
Wage demands can be a challenge
However, concerns about Maguire's high salary, reportedly around £190,000-a-week, and Postecoglou's preference for working with younger players may impact Tottenham's decision to pursue the transfer. The club might consider an initial loan deal as a viable option to mitigate these concerns, reports ESPN.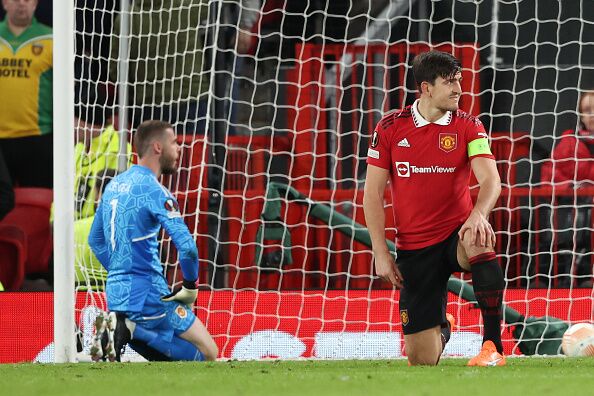 Eurosport reports that Tottenham's interest in Maguire aligns with their pursuit of other potential signings. Alongside the defensive reinforcement, the club is also reportedly eyeing Leicester City duo James Maddison and Harvey Barnes.
Read more:
⋙ Harry Maguire: What is the footballer's net worth?
⋙ WAGs of Grealish and Maguire lead exodus from luxury boat after 'urine incident'
⋙ Manchester United legend Wes Brown declares bankruptcy despite £50k-a-week wage