The Sussexes are in good spirits as they enjoy an unusual night away from the kids in New York.
Prince Harry and Meghan Markle were the recipients of an award at the Ripple of Hope Awards dinner in New York, and Harry quipped that it was like going on a 'date night.'
Which award did the couple receive?
As the couple attended a glamorous awards dinner earlier this week, Prince Harry joked that he believed he was taking Meghan on a 'date night'.
The pair received the Ripple of Hope Award at a Robert F Kennedy Human Rights (RFKHR) dinner in New York. The award recognizes outstanding leaders in government, industry, advocacy, and entertainment, and the couple was acknowledged for their work in racial justice and mental health.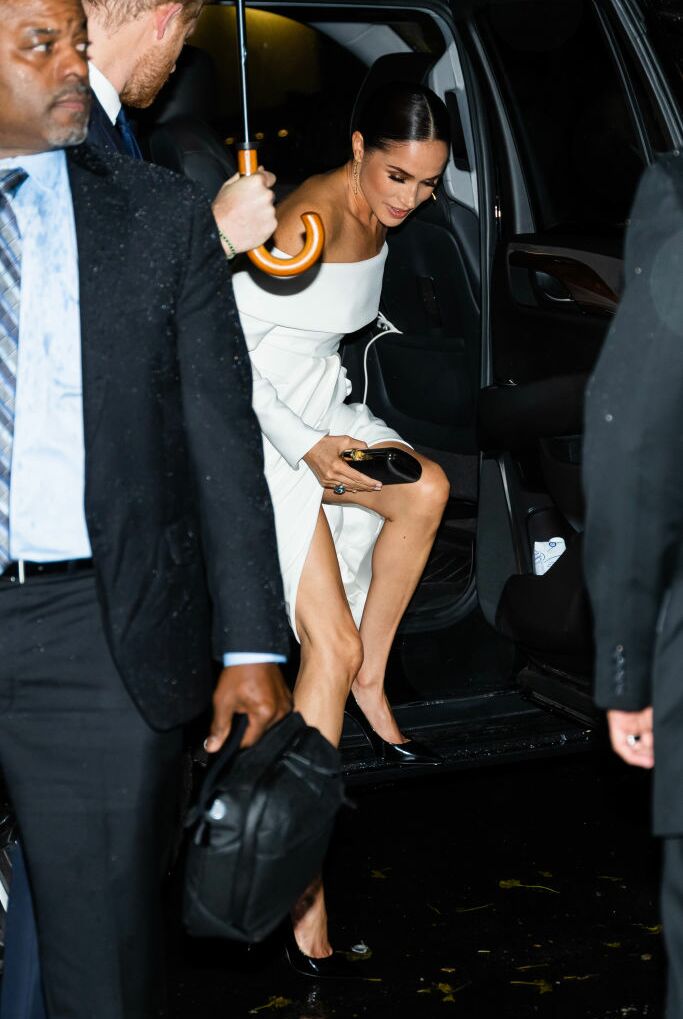 At a glitzy New York awards ceremony last night, the Duke and Duchess of Sussex declared that their struggle against 'oppression' had only just begun. Earlier this year, Meghan made her first move by releasing the Spotify podcast series Archetypes, in which she talks about women's rights and equality.
According to the Insider, Harry and Meghan made the politically heated pre-recorded statements after being honored by the Robert F Kennedy Human Rights (RFKHR) group with an award for fighting racism in the Royal Family, a prize previously bestowed to Barack Obama and Hilary Clinton.
Meghan also discussed her struggle with suicidal thoughts while a royal, telling the audience that she 'didn't want to be alive anymore' and that the decision not to end her life 'wasn't easy,' sentiments that echoed those made during her bombshell interview with Oprah Winfrey..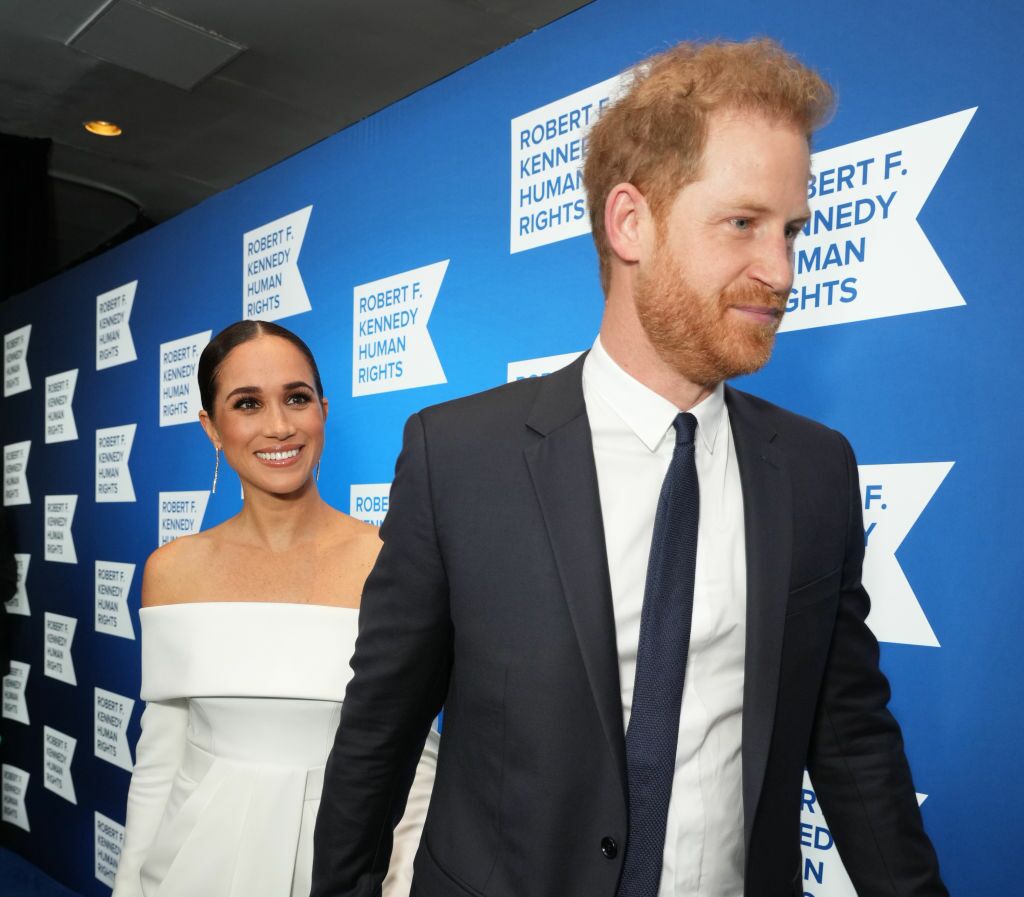 Unexpected date night for the Sussexes
During the evening, the pair spoke with Kerry Kennedy, the late Robert F. Kennedy's daughter. And it caused Harry to joke that he mistook his wife Meghan for a 'date night.'.
The Prince told his partner:
'I'll be honest with you Kerry I just thought we were just going on a date night so I found it quite weird that we're sharing the room with 1500 people.'
He continued, gushing that it is 'completely unexpected':
'We don't get out much these days because our kids are so small and young so, this is completely unexpected.'
To laughter from the audience, he hilariously said: 'But it's nice to share date night with all of you, so thank you for coming.'
Meghan played along with her husband's joke: 'Thank you for bringing me on this very special date night.'
'You're welcome,' Harry replied.
Meghan and Harry are praised as incredibly brave
The pair were honored alongside others, including Ukrainian President Volodymyr Zelensky. Honorees include those who have shown 'unwavering commitment to social change and worked to protect and advance equality, justice, and human rights,' according to the RFKHR.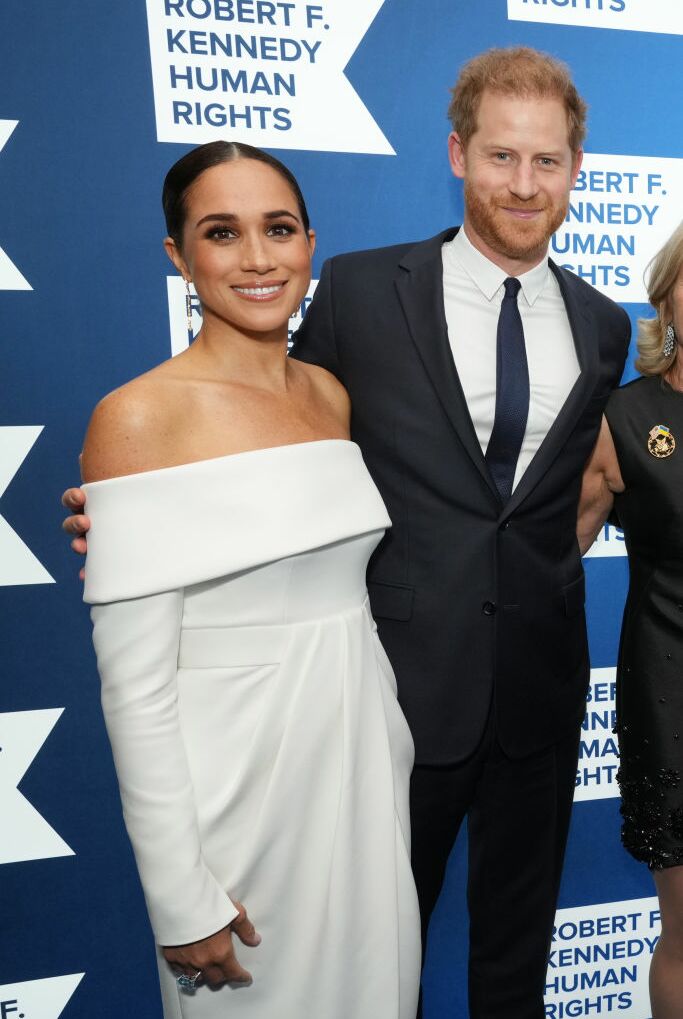 Ms. Kennedy, Robert F. Kennedy's daughter, said the Sussexes were 'incredibly brave' in tackling issues of racial justice and mental illness.
'They've stood up, they've talked about racial justice and they've talked about mental illness in a way that was incredibly brave,' she told US outlet Extra on the event's blue carpet.
For the event, Meghan donned a white, long-sleeved Louis Vuitton gown with a front slit and off-the-shoulder neckline to the event, and the couple grinned at the spectators before standing on the blue carpet. Their participation at the awards comes just hours before the premiere of the couple's Netflix seires, which is set to premiere on Thursday.
Read more:
⋙ Prince Harry's ex girlfriend says she's 'proud' he quit UK: 'He needs to do that'
⋙ Prince Harry and Meghan Markle: List of upcoming projects
⋙ One thing Meghan Markle absolutely hates about Prince Harry
⋙ Meghan Markle shares her morning routine with Prince Harry and kids