Princess Eugenie took to Instagram to share a romantic photo and heartfelt message to her husband Jack Brooksbank as the pair celebrate their special day.
The couple tied the knot at St George's Chapel in Windsor and enjoyed a carriage ride after their ceremony four years ago.
On Thursday 13 October, the Princess posted a beautiful black and white image of them together in the carriage to celebrate their fourth wedding anniversary. She captioned the post: 'Happy Anniversary my Jack. 4 years and counting..' followed by two heart emojis and a kiss emoji.
Here's Princess Eugenie and Jack Brooksbank's relationship timeline, summarized by Townandcountrymag.com.
They initially met in Switzerland's Verbier
When Princess Eugenie was 20 and Brooksbank was 24, they first connected in 2010, at the Swiss ski resort and vacation destination Verbier, according to the BBC. The royal family frequently travels to Verbier for vacations, and Eugenie had been going there for years with her mother, the Duchess of York, and her sister, Princess Beatrice.
The couple was separated in 2013
Eugenie relocated from London to New York in 2013 to work for Paddle8, an online auction business. Brooksbank talked to the Daily Mail later that year in his first interview, explaining how the couple was handling the separation. 'We spend a lot of time on Skype,' he explained. 'It's great. We are still very much together'.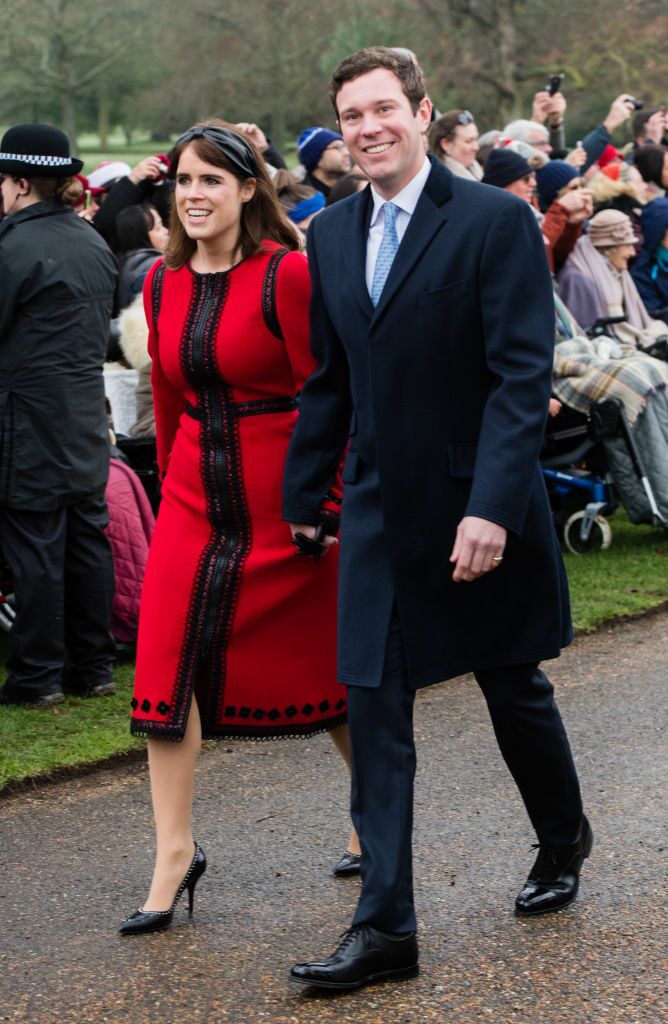 In 2015, Eugenie returned to London, and the pair began spending more time together. Eugenie told Harper's Bazaar about their love life in 2016:
'When I'm with Jack, we watch The Walking Dead, which we're obsessed with. Maybe Game of Thrones is our next thing. I don't watch reality shows, but I love cooking programs'.
Brooksbank popped the question to Eugenie in January 2018
Brooksbank described the scene on the day he proposed in a video uploaded to The Royal Family's YouTube channel as having a 'beautiful volcano, summer setting, birds are flying'.
Eugenie also discussed the unexpected engagement. She shared:
'The lake was so beautiful. The light was just a special light I had never seen. I said this is an incredible moment, and then he popped the question, which was surprising even though we have been together seven years. I was over the moon.'
Immediately following their engagement announcement, the pair appeared for several photos inside Buckingham Palace, where the Princess displayed her engagement ring. It resembles the ring that her father, Prince Andrew, used to pop the question to her mother and has a padparadscha sapphire and diamonds all around it.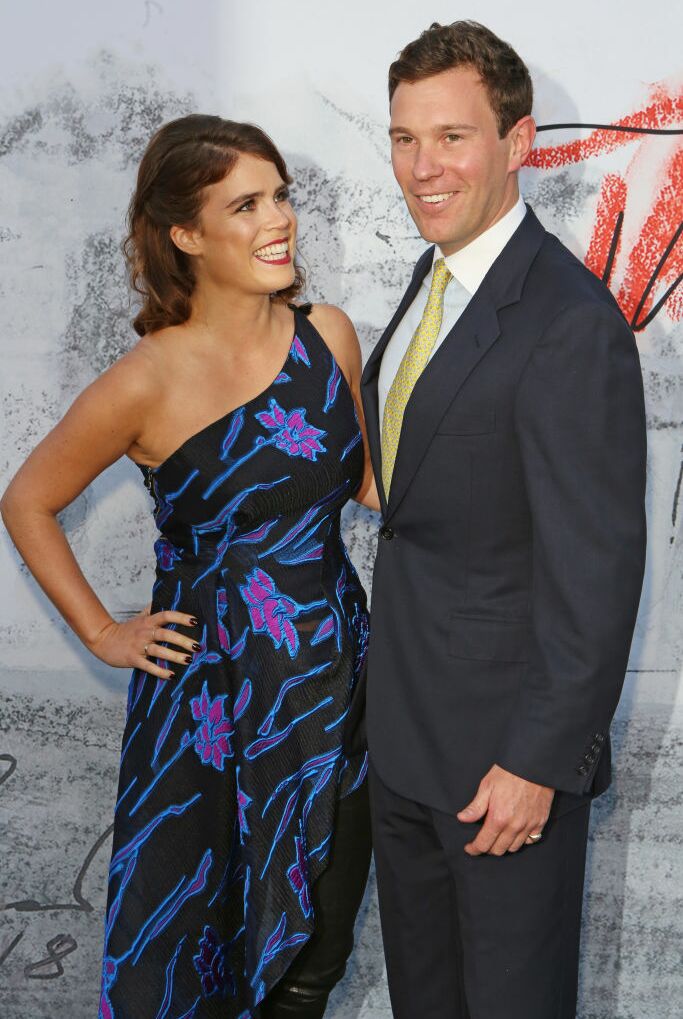 On Easter Sunday, they made their first public royal appearance as a couple. The pair attended the Easter Sunday church service at St. George's Chapel, Windsor Castle, which is also where they will get married, three months after they announced their engagement. It was their first public outing at a royal occasion as a couple.
And in 2018, the pair walked down in a picture-perfect ceremony. Eugenie accessorized her outfit with an emerald tiara that she 'borrowed' from the Queen, and wore a gown by Peter Pilotto and Christopher De Vos. Even though it was a little windy on the wedding day, a stunning rainbow formed over the chapel just before the ceremony.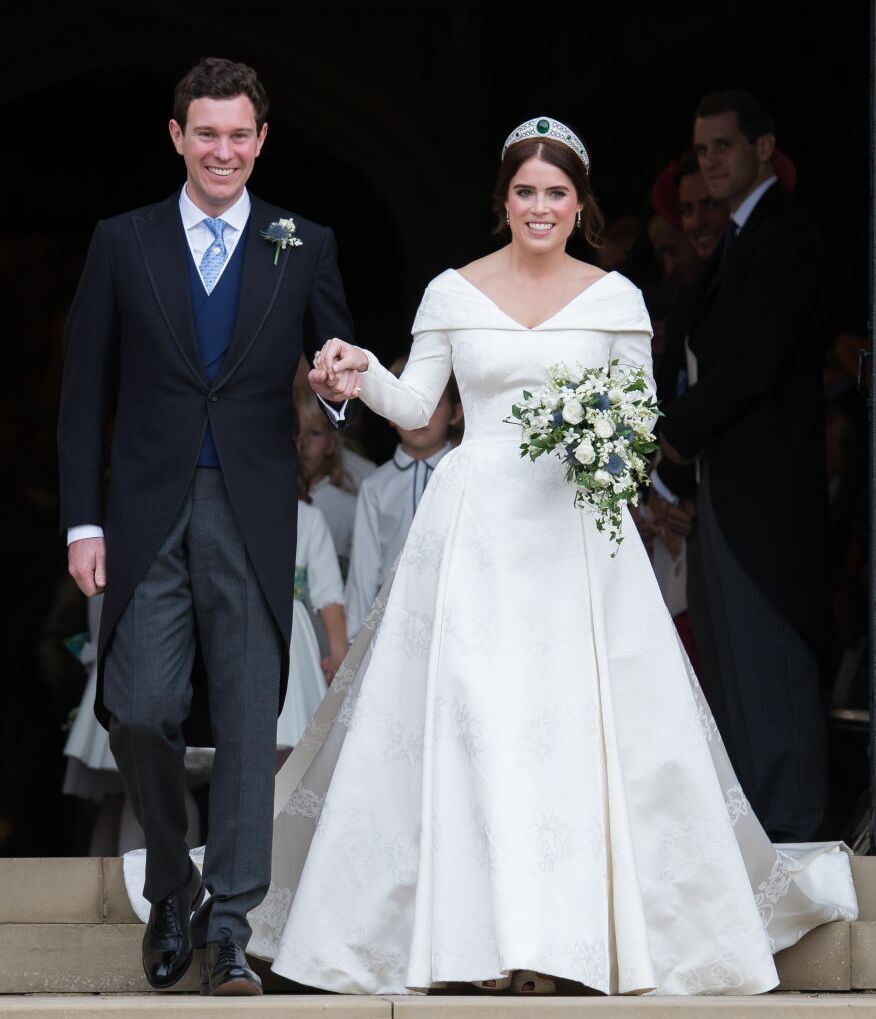 First child together
In September 2020, the royal couple announced that Eugenie was expecting their first child. Buckingham Palace said:
'Her Royal Highness Princess Eugenie and Mr. Jack Brooksbank are very pleased to announce that they are expecting a baby in early 2021. The Duke of York and Sarah, Duchess of York, Mr. and Mrs. George Brooksbank, The Queen and The Duke of Edinburgh are delighted with the news'.
Eugenie shared a cute picture of baby shoes on Instagram to mark the news. 'Jack and I are so excited for early 2021', she captioned her photo.
They then revealed that the name of their kid is August Philip Hawke Brooksbank.
Read more:
⋙ Princess Beatrice broke this royal rule before wedding
⋙ Royals who have tattoos: From Princess Eugenie to Lady Amelia Windsor