Nicola Peltz recently made headlines with her candid interview with Grazia magazine, and David Beckham is apparently not happy with his daughter-in-law's words.
In a rare encounter with his son Brooklyn, David Beckham has 'read the riot act' to him as their dispute over Brooklyn's new wife, Nicola Peltz, continues, reports Page Six.
Brooklyn, 23, and Nicola, 27, will attend Mrs. Beckham's Paris Fashion Week event today. It is anticipated that the reunion would put an end to the awkward tension that took place in April and hasn't yet been reconciled by the family.
Nicola Peltz's controversial interview
According to Page Six, David's confrontation with his son was provoked by Nicola Peltz's recent interview with Grazia magazine, in which she brought up the issues surrounding the creation of her wedding dress and seemed to accuse her mother-in-law of 'blanking' her and breaking a promise to make the dress.
An inside source revealed to Mail Online:
'I don't think David has ever lost his temper with Brooklyn or had cause to talk to him harshly, but that has now finally happened. He had it out with him and told him: 'We don't do this in our family – and you know that we don't do this in our family.'
Beckham added to Brooklyn:
'What happens next is up to you, but we are done with the drama.'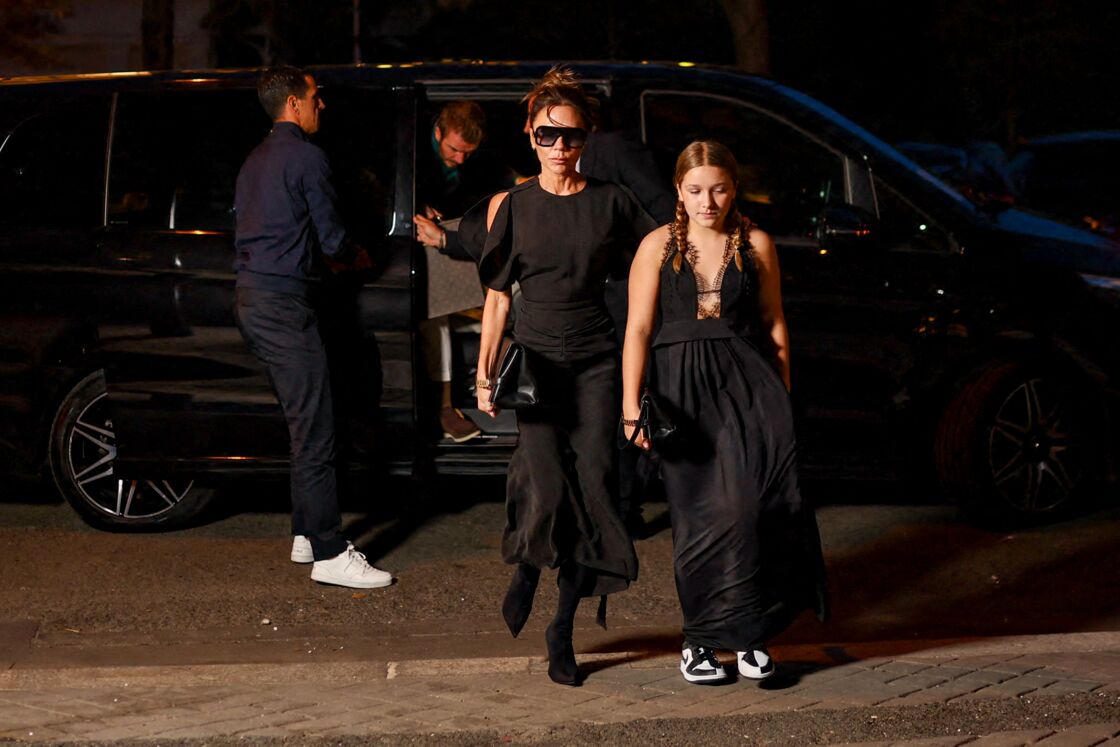 Miss Peltz revealed in her Grazia interview that her mother Claudia, and stylist Leslie Fremar, had all been thrilled to have a dress designed by Mrs. Beckham. She shared:
'We connected to start designing the dress, and then a few days went by and I didn't hear anything. Victoria called my mom and said her atelier couldn't make it.'
She continued by saying that she felt deeply hurt when people thought that she never planned to wear a Victoria Beckham gown.
At the same time, Brooklyn, a budding chef, admitted to the magazine:
'To be honest, my wife is obviously my first priority and I never want to see her upset ever. We have each other's back 100 percent and we just move on together.'
David Beckham was appalled by the interview
The source added that the former England international was 'really appalled' by what Nicola said in the Grazia interview, which 'washed the family dirty linen in public':
'David was really appalled by the Grazia interview because it seemed to be washing the family dirty linen in public – and he said that [Brooklyn's brothers] Romeo and Cruz are also hurt by it. It was probably a shock as he's never done anything other than telling Brooklyn how much he adores him.'
Friends disclosed that the Beckhams have privately compared their family's current state to the similar feud between Princes William and Harry in the Royal Family, with some responsibility placed on the two American wives, Miss Peltz and Meghan.
One claimed: 'What is being said is that Brooklyn has forgotten that he is a Beckham.'
The origin of the drama
It is speculated that David is naturally protective of his wife Victoria, who has been greatly hurt from the bitter drift with her eldest son since he got married in April. Tensions appeared during wedding planning time, which was mostly carried out by Peltz's socialite mother Claudia.
Nicola Peltz changed three times during the course of the wedding weekend, but she never wore anything by Victoria Beckham, and the Beckhams were not seated at the top table, which were reserved only for the Peltz aristocratic family.
The extended Peltz family joined Miss Peltz and Brooklyn aboard a yacht for their honeymoon following the nuptials. The young couple didn't interact with the Beckham family and doesn't appear to have seen them at all during their time in Italy in July. This week, Miss Peltz and Brooklyn will be in Paris with the joining of the actress's brothers Bradley and Diesel.
Read more:
⋙ Victoria Beckham not allowed to choose son Brooklyn and Nicola's wedding venue
⋙ Victoria Beckham invites Nicola Peltz to fashion week to ease feud
⋙ Victoria Beckham reportedly stole Nicola Peltz's wedding spotlight as tension continues
⋙ Nicola Peltz breaks silence on rumored fallout with mother-in-law Victoria Beckham