Prince Harry and Meghan Markle are supporting the veteran community in Germany as part of their Invictus Games schedule.
The Invictus Games, a prestigious international sporting event, welcomed the surprise arrival of Meghan Markle, the Duchess of Sussex, in Dusseldorf, Germany. Meghan joined her husband, Prince Harry, on the third day of the event, adding to the excitement surrounding this year's games.
Meghan, 42, arrived in Dusseldorf with their two children, Archie, four, and Lilibet, two, after traveling from their home in California. She was seen donning sunglasses and a scarf, with her hair pulled back into a bun. While Meghan was notably absent at the beginning of the Invictus Games, her arrival in Germany was met with enthusiasm.
Acknowledging her delayed arrival at the games as she missed the initial days due to spending time with her two young children in Los Angeles, Meghan playfully mentioned treating them to milkshakes and accompanying her eldest child to school before leaving for Germany.
'It's so special to be here and I'm sorry I'm a little late for the party. I had to spend a little more time getting our little ones settled at home and get them to drop off. Three milkshakes and a school drop-off and I just landed a couple of hours ago, and I am thrilled that the first event I can do for Invictus is here with all of you.'
Invictus Games: A tribute to resilience and service
The Invictus Games hold a special place in Prince Harry's heart. He founded this Paralympic-style sports tournament in 2014 after being inspired by the Warrior Games in the United States. These games provide a unique opportunity for wounded, injured, and sick military personnel and veterans to showcase their resilience and strength, both physically and mentally, through the power of sports.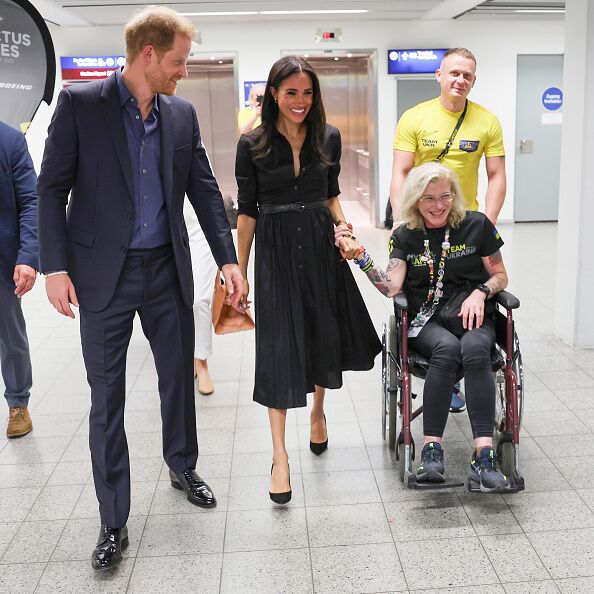 Over the years, the Invictus Games have grown in scale and significance. They serve as a testament to the indomitable spirit of those who have served their countries, with competitors hailing from 21 different nations. The 2023 edition features over 550 athletes, all vying for more than 200 medals across various sports disciplines, including powerlifting, swimming, cycling, and table tennis, which is being introduced for the first time.
With locations such as London, Orlando, Toronto, Sydney, and The Hague having hosted previous editions, the Invictus Games will return to North America in 2025, with Vancouver and Whistler, Canada, set to welcome the event.
Prince Harry, who is fifth in line to the British throne, has been actively engaging with participants and fans during the games. He was seen enjoying a light-hearted moment with TV presenter and Invictus Games medalist JJ Chalmers during a wheelchair basketball competition. In addition to presenting medals, Harry made an endearing reference to his wife, Meghan Markle, during his opening speech at the games.
With a playful smile, Prince Harry quipped:
'Now I'm not saying we play favorites in our home, but since my wife has discovered that she is of Nigerian descent, it's likely to get a little more competitive this year.'
Meghan's choice of accomodation
While Meghan Markle couldn't attend the opening days of the Invictus Games due to her commitments in California with their children, Archie and Lilibet, her arrival in Germany marked a significant moment. The couple, known for their previous appearance at the Toronto Invictus Games in 2017, continues to show unwavering support for the event and its participants.
As per OK!, Prince Harry has secured accommodations in the opulent Presidential Suite of the Hyatt Regency Hotel during his stay in Germany. This lavish suite offers panoramic views of Dusseldorf, plush amenities like robes and slippers, multiple televisions, and even a yoga mat—an addition that reflects Meghan's passion for yoga, a practice she shares with her mother, Doria Ragland.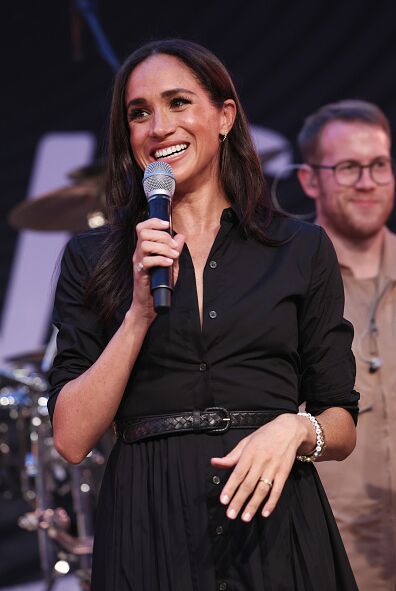 Prince Harry's trip to Germany followed a brief visit to the UK, where he attended the WellChild Awards and paid tribute to Queen Elizabeth II on the first anniversary of her passing. His wife did not join him.
Read more:
⋙ Meghan Markle could be facing a huge problem because of her ex-husband
⋙ Prince Harry and Meghan could be house hunting once again, report suggests
⋙ Are Prince Harry and Meghan really feuding with the Beckhams? Here's what to know
⋙ Prince Harry and Meghan return to Europe, just in time for Queen's first death anniversary