The fashion designer gives a rare insight into how she parents her youngest daughter and shares Harper's natural talent at the age of 11.
Victoria Beckham, renowned fashion designer and former member of the Spice Girls, has recently given a glimpse into her parenting style and her daughter Harper's interest in makeup.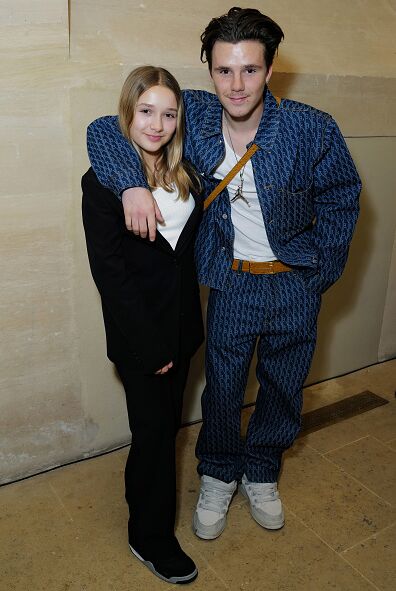 The Beckham duo, Victoria and Harper, not only bond over their mother-daughter relationship but also share a profound love for the world of beauty. Victoria, having established her eponymous womenswear label, ventured into the beauty industry in 2019 with her own beauty line, Victoria Beckham Beauty. Harper has been actively involved in her mother's beauty endeavors and has accompanied her on research and business trips for the company.
Talent at a very young age
According to The Daily Mail, Victoria Beckham proudly revealed that her daughter Harper possesses a remarkable skill for makeup artistry at a young age. Despite being only 11 years old, Harper has been able to contour and create a full face of makeup quite naturally.
Victoria told The Times of Harper's flair:
'She's been able to do a full face and contour for quite some time. She's good at doing it very naturally.'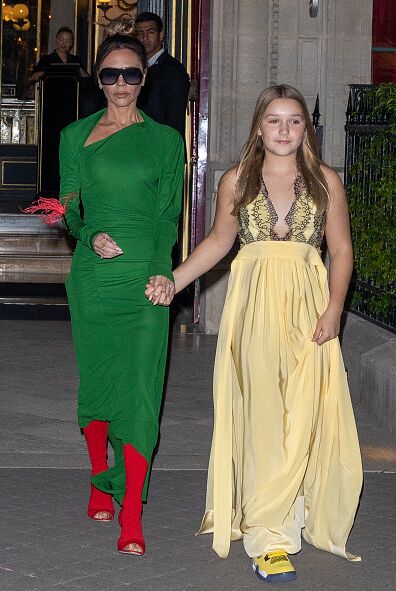 Harper's interest in makeup has created a unique bond between mother and daughter. Victoria Beckham shared that they enjoy going shopping for cosmetics together, with their favorite treat being a visit to Space NK after school. She said:
'Going to Space NK is her favourite treat after school. If she does well in a test I'll take her to the one down the road — it's her favourite thing. She's obsessed.'
Victoria Beckham's strict parenting style
Last year, Victoria Beckham delighted her followers by sharing adorable clips on Instagram of her daughter Harper playing with makeup at home. In one video, Harper applied lip gloss from her mother's brand, showcasing her budding makeup skills. In the short clip, Harper is seen applying some of her lipgloss as she asks: 'What are you doing?'
To which, Harper said with a cheeky smile, 'I'm putting your make-up on.'
Victoria affectionately captured this mother-daughter moment and expressed how Harper had learned from the best, even wearing the same shade as her mother.
Despite Harper's talent and enthusiasm for makeup, Victoria Beckham has set clear boundaries when it comes to her daughter's use of cosmetics. Harper is not allowed to leave the house wearing makeup, indicating Victoria's emphasis on age-appropriate choices.
Attitudes towards aging
Beyond parenting and makeup, Victoria Beckham has shared her perspective on aging and self-acceptance. Asked how she feels about aging, she told The Sunday Times:
'I am comfortable with who I am, I accept how I look, I make the best of what I have. I feel, professionally and personally, really accomplished at 49. I consider how I apply my make-up. But I like how it feels being older.'
She emphasized the importance of being 'the best version of yourself':
'I've always been quite tough on myself, but because of that I've also always strived to be the best version of myself. It's not about changing anything, it's just about looking at the best version of yourself.'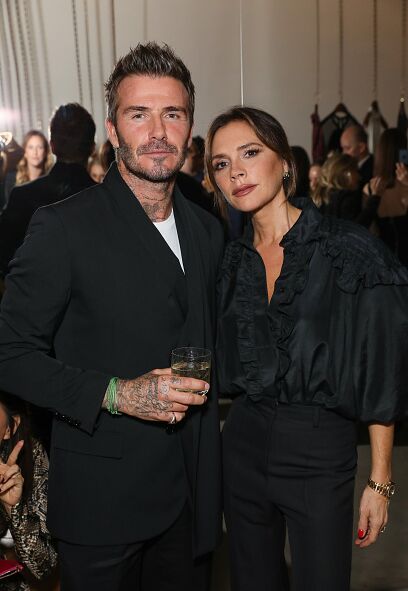 Victoria also admitted that although she did have some laser treatments, she wasn't 'trying to turn back the clock':
'I think it's about little things. Same with make-up, it's about not doing too much, which can be really ageing. I went to an event recently and people had very [overfilled] faces. There are some scary options out there.'
In the interview, Victoria Beckham made a surprising revelation about her personal beauty routine, specifically regarding her eyebrows. Eyebrows play a crucial role in Victoria's beauty routine, as she emphasized that they are the first thing she does every morning.
In the same interview, she revealed that her husband, David Beckham, has never seen her without her eyebrows drawn on:
'David has never seen me without my brows. They're the first thing I do: wake up, put on the brow. Mine aren't even, either – they're sisters, not twins. I'm very self-conscious about the overplucking because brows change your whole face.'
Read more:
⋙ David Beckham opens up about 'tiring' disorder that keeps him up at midnight
⋙ Victoria Beckham is fitter than ever at 49, what's her secret?
⋙ Victoria Beckham hits back at surgery rumors with rare makeup-free photo
⋙ Victoria Beckham says David is 'heartbroken' over request from daughter Harper